An igloo is a shelter made of ice.  The ice acted as an insulator and provided warmth due to the air pockets trapped in the snow.  When I think of igloo I normally think of the popular brand of coolers that accompany anyone going on an outdoor excursion or camping trip.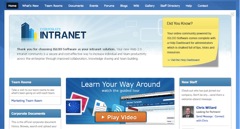 Well now I can add IGLOO to the growing list of cloud based SaaS solutions that are popping up to help drive collaboration and a social infrastructure for business.  In 2005 the Centre for International Governance Innovation (CIGI) launched an initiative to create International Governance Leaders and Organizations Online or IGLOO.  Several noted Canadian technology innovators were involved in the initiative including Tom Jenkins of OpenText (OTEX) and Jim Basillie from Research in Motion (RIMM).  More info…
Beginning in 2008 IGLOO began its journey towards a commercially available software platform in accordance with CIGI's agreement with the Ontario Ministry of Research and Innovation.  More info….
More recently IGLOO improved its position in the Gartner Magic Quadrant as an emerging Niche player of the Social Software in the Workplace and Externally Facing Social Software reports.   More info…
Headquartered in Waterloo, Ontario the company has seen a 388% year over year growth in 2011 focusing on B2B in the US and EMEA.  The ideal target customer is the mid-market with organizations <2,500 employees.  The product is described as an IT friendly business social software that is different from public social networking and file sharing sites.  Those public sites are designed mainly for fun, they are free and adopted for personal use.  The question is who owns the content, you or the free service provider?
In contrast IGLOO is for work, it is secure (LDAP, AD, Kerberos) and gives you the ability to brand and design websites, team collaboration spaces, blogs, forums, wikis, document spaces and photo galleries.   You build team sites and web pages using a drag and drop widget bar.  Once your widgets are placed each one has a tabbed configuration settings page that makes it simple.  Now managers and power users can create sites that are useful and powerful.

On top of the entire platform is a killer social layer that supports trending, messaging, commenting and sharing.  This gives each user and workgroup the ability to interact with content in a social and meaningful way.  Add a universal search function and user, content and role based security and you have a very capable cloud based platform fully accessible from your desktop browser.
Everything inside IGLOO is predicated on a version control paradigm so whenever you add content, update a page, write a blog, or comment each action is recorded as a new version so there is never any worry that you will overwrite or delete important files or data.  In addition there is a desktop integration feature that gives you the ability to drag and drop documents and related content directly to a secure folder on your desktop.
IGLOO uses an agile development methodology that allows 50% of all new features to be driven by the customers and users in very short cycles.  The company boasts 3,000 customer communities worldwide and has widgets for connecting Salesforce.com and SharePoint.
It's important to note that IGLOO is running in a SaaS 70 Type II compliant data center so you know your content is safe and secure.  I think Daniel Kube, IGLOO Sales and Business Development VP summed it up well by saying "You can never make software to easy to use".


Check out http://cloudpwr.com