This blog is for small and medium sized business owners looking to save time and money by organizing your office files, receipts and other paper records in the cloud. I recently started a new business and that gave me the opportunity to leverage the cloud and be completely paperless from day one.One of the first steps was to decide what the business would use for basic email, collaborative document authoring and shared calendars. The choice we made was Google. Primarily because the solution is easy to use, affordable and provides a comprehensive list of
additional services in the applications
marketplace. We still use Outlook for an email and calendar client and most users also have the full Office suite loaded on their workstations.  For me the only drawback is the lack of support for Google Calendar Sync and
Google Cloud Connect
 when I am using my MacBook Air.
The next step was to eradicate incoming paper from the post office mail and receipts from expenses. In addition it is still a business requirement to physically sign some contracts with an actual pen and ink. We needed to scan those records for emailing and storing copies in the cloud.  So I began evaluating desktop scanners. I wanted a compact unit that was easy to use but flexible enough to handle different sizes of paper. Scanning speed was not a big consideration but I definitely knew I wanted a document feeder and not a flatbed. I thought about using an all-in-one printer but quite frankly the scan quality and the software that comes with those devices is not as good as a dedicated peripheral. The manufacturers of those devices are focused on the printing aspect of the device and selling ink. I needed a scanner that would create flawless images, perform on the fly
OCR
and easily connect with GoogleDocs for storing and sharing the files we needed to convert from paper to searchable PDF.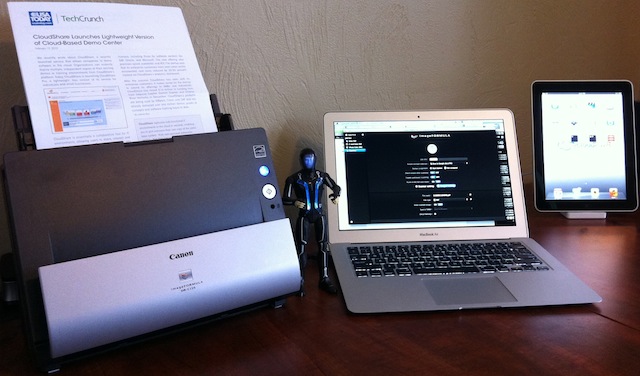 As you can see from the picture with the Sam Flynn action figure I selected the Canon DR C-125. I added the action figure to help give scale to the device along with my MacBook Air and iPad. My first task was to install the device, this is usually were you either love of hate a new peripheral. Because the Air does not come with a DVD drive I easily located the device driver software on Canon's website and downloaded the drivers and associated software.After the software installation was complete I removed the packing tape (tip, make sure and remove the orange tab inside the scanner clam-shell) – plugged the document scanner in using the supplied USB cable and powered up the unit.  So first impression was 'Love' it, because everything just works.I had absolutely no glitches or problems getting my first scan job complete. I prepared a big stack of receipts by taping them down to 8.5 x 11 scratch paper and scanned a batch of 20 pages. I created a batch profile that uploaded the receipts directly to a receipts folder in GoogleDocs. The process of setting up the scan profile was simple enough and provided file naming, type and advanced image processing options. I select output to PDF at 300dpi with embedded OCR searchable text.Below are screen shots of the Capture OneTouch software interface.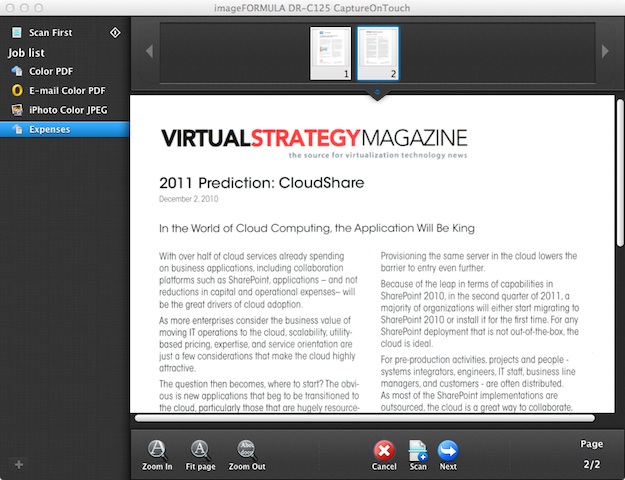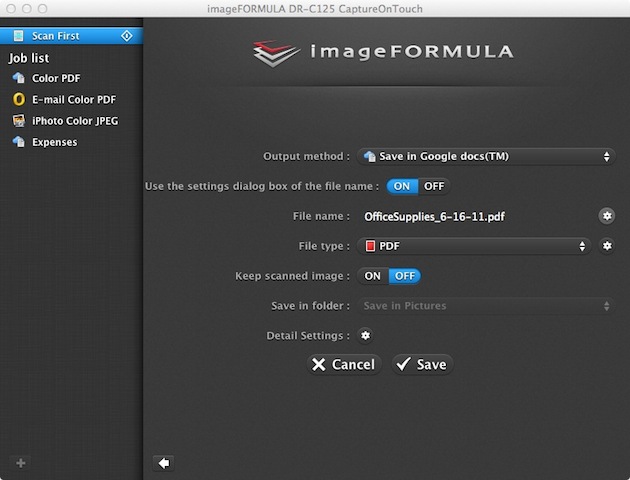 I am very happy with the setup, now if I could just get Google to increase the amount of storage I get for non-Google Document files I would be really happy. Currently Google only gives you 1GB of free space for externally created content.  I may have to switch over my storage to another provider like
Box, they increased my storage to 50GB of free storage
 just for installing the Box app on my iPad and iPhone.After my pleasant experience with the
DR-C125 desktop scanner
I am seriously considering a portable unit. Lucky for me the
Canon P-215 aka the Scan-tini'
  is perfect for on the go document capture so I can standardize on the ImageFormula devices when I am on the road visiting with customers, attending a trade show or working at a remote office.